SINGAPORE'S BEST COLD BREW DELIVERY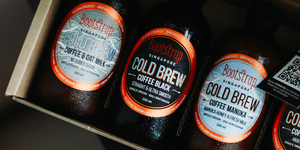 COLD BREW DELIVERY
JUMPSTART YOUR DAY
We make the best cold brews and deliver them to your door so you never need to lose a moment to focus on your goals.
ORDER NOW
Gift Packs
our clients
Improved
TRY OUR COFFEE CONCENTRATE
Creating Barista-quality coffee just got easier. Get the smoothest
coffee concentrate brewed fresh in Singapore with 100% Arabica beans.
With Bootstrap Concentrate, you can make espresso, americano, latte,
coffee tonic or anything else you can imagine.
Learn more
SPOILT FOR CHOICE?
TRY OUR MIX PACK
Decisions can be tough. Not to worry, we've got you covered. Grab a
Bootstrap Mix Pack and try one of each of flavour. Before deciding on
your favourite.
BUY NOW
★★★★★

Not a black coffee drinker but this is good stuff from Bootstrap Cold Brew SG

Martin, Auditor
★★★★★

Really appreciate the no delivery charge for subscriptions as I can't do without coffee. I love the Oat Milk.

Charlene, Financial Executive
★★★★★

Love the flavour profile of their cold brew; plus, it's good and strong, perfect to get me going in the morning.

Michael, Analyst
★★★★★

Really liked the Manuka Honey cold brew. Would definitely recommend it to EVERYONE!

Eugene, Software Engineer
Cold brew is coffee that has been steeped and infused with cold water over a long duration of time (usually more than 12 hours). Unlike hot coffee that is then chilled or served over ice, cold brew is fresh coffee and filtered water that is brewed slowly without heat. This process produces a coffee that has a much smoother flavour without that usual bitterness or sourness that you usually get in black coffee.
You may select the delivery date and time when you are checking out. Have it delivered next-day when you place your order before 5:00 pm from Monday to Thursday. For deliveries on Saturday, orders must be placed before 3:30pm on Friday.
Yes. Limited quantities for self-collection is available from Mondays to Fridays. Do speak with us via our web chat and we will do our best to give you our hidden stash. Our self-collection is at our microbrewery located at Mandai.
Our cold brews have a fridge-life of 12-30 days depending on the flavour. Each bottle has an expiry date marked out on the label. Every batch is made fresh only when your order is placed. That's our promise.
We are able to do this because of our dedicated microbrewery and brewing process that we've refined over the years. We have also taken strides to ensure that our cold chain process is rigorous to withstand the journey from our brewery to your fridge. Bootstrap cold brews are unpasteurised and do not contain any preservatives. You can be sure that you'll always get the real deal with us.
Yes! Our cold brews are made cold, delivered cold and needs to be stored cold. If you're ordering it it as a gift, do remember to remind your recipient to refrigerate it ASAP.